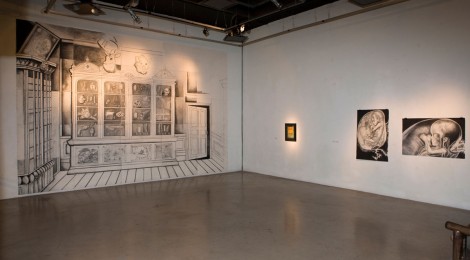 In transit (english)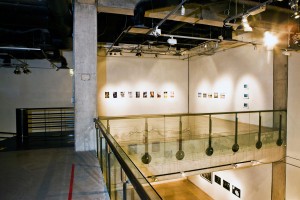 En tránsito
Emma Filipsson, David Kendall, Ben Elwes
16 March – 3 June 2012, Private View: 16 March 6.30 – 8:30pm
Centro Cultural Manuel Gómez Morín, Av. Constituyentes esq. Luis Pasteur S/N Col. Villas del Sur, C.P.76000. Santiago de Querétaro, México, open Mon – Fri 9am – 9pm, Sat – Sun 9am – 8pm
For Immediate Release
En tránsito explores how visual, historical and transnational processes and locations intersect as mobile, shared spaces around the globe. International economic patterns and geographical flows of labour, products/commodities and visual media provide conceptual frameworks involving us, by default, as constant participants in a Capitalist cycle tracing themes of the past and considering resemblances today. Walking is elemental in allowing the re-conception of spatial and social possibilities that may manifest in world cities. Journeys made within a city can reveal or hide societal differences, processes of commercial exchange, embodied practices, hidden maps and visual boundaries, opening up new lines of critical and artistic enquiry.
Following on from Ex Uno, Plures and inspired by her residency in Mexico during 2011, You Cannot Step into The Same River Twice uses as its source ideas related to the prints and watercolours made by the English artist Frederick Catherwood and the American writer John Lloyd Stephens work entitled: Incidents of Travel in Central America, Chiapas and Yucatán. Further exploring idiosyncrasies of ancient civilizations, creating links with contemporary cultural issues, and inspired by her own personal experiences, You Cannot Step into The Same River Twice plays on inter-connecting themes. Emma Filipsson incorporates into her work plastic objects observed through research. Predominantly too she uses plastic objects gleaned from seashores and riverbanks. This action acknowledges the conflict between human activities and nature; archaeology is the art of retrieving objects essentially regained by nature. What may be regarded as waste products in one region may be considered as useful and valuable in societies where commodities are scarce. Each found object has been drawn life size and placed within an invented cabinet of plastic curiosities. This is in part paying homage to European traditions of creating collections of artefacts retrieved from foreign travels, and a critical appreciation that the seeds of Globalisation were sewn during this period of history and have influenced environmental anxieties in the present.
In Dubai, UAE Capitalist free-market ideals and publicity techniques are interwoven with autocratic state controls which organise architectural expansion and manage the spatial flow of migrant workers in the city. Highways and roads dominate the landscape, and within this infrastructure walking is discouraged. Roads become walls, boundaries and lines to be navigated, alienating pedestrians. Always Let the Road Decide explores how South Asian construction workers, who have limited social rights within the city, independently access and appropriate these busy road networks on foot. Walking and climbing onto the road allows individuals to dictate the pace of their collective movements in hostile environments. Male workers create informal activities, meeting points or collective communal spaces in between highways, on underdeveloped plots and in cultivated gardens. Returning to the same sites and re-tracing events gives David Kendall opportunities to determine how the space is being reused or visually modified over time. The artist combines the utilitarian qualities of architectural photography with embodied experiences, intimate social rhythms and observational practices to explore how these ephemeral activities could influence the pace of modernisation and long-term planning and construction procedures within the city.
Ben Elwes current body of work, It's nice to know that some things in life are certain addresses issues surrounding communication technologies of advertising, forms of mass media and their influence on our psychology, ensuing patterns of behaviour and thus contributing to the nature and development of our personalities. People assimilate streams of information routinely, some of which we receive voluntarily but much is incidental being immaterial and is registered subconsciously. Elwes work challenges the source of this information, its language and integrity and our interaction and compliance with it. The work too reflects on the inherent instability of economic systems and the symbiosis between global economies, media and advertising. These are continually fluctuating in relation to the micro activity of our own individual and thus collective consumer behaviour. In the project Cars the artist challenges preconceived formulas of advertising and our expectations in relation to those processes. The work alludes to present economic uncertainty, as well as questioning individual aspiration and the quest for exclusivity, through consumption.
Emma Filipsson is a Swedish visual artist, who works in Göteborg, Sweden and London, and is presently resident in Queretaro, Mexico. Her practice is concerned with urban and social landscapes that link poetry and literature as well as stories emanating from her own encounters with people, objects and architecture. In her practice she addresses issues surrounding globalisation, history and immigration. Often run parallel with her personal experiences, she identifies patterns of human activity, the subjects of her work which become isolated examples of these sociological formations. In 2010/11 Filipsson a graduate of the Royal College of Art, London was artist-in-residence, supported by Swedish arts council: Västra Götalandsregionen and Instituto Queretano de la Cultura y las Artes at Museo de la Ciudad, Santiago de Querétaro.
David Kendall's practice explores how spatial, economic and design initiatives, as well as participatory practices, combine to encourage social and spatial interconnections or conflict in cities. Kendall utilises visual archives, collective memories, mapping, events and embodied experiences to activate and generate his photographic, film and site-specific projects. His photographs, spatial research and collaborative projects have been exhibited and presented internationally including Tate Britain, the South Bank Centre London, University of Copenhagen, Denmark, Jewish Museum Berlin and University of Oxford, UK. Kendall is a visiting fellow within the Centre for Urban and Community Research, Goldsmiths, University of London, UK.
http://www.david-kendall.co.uk
British artist Ben Elwes uses digital and analogue still photography and HD video, with an emphasis on large-scale prints. Through ongoing urban journeys he has created a body of work that hinges on the spontaneity of fleeting moments, personal encounters, experiences and observations made within the public arena. This is predominantly in relation to the perpetual nature of media and advertising and the constant process of its renewal and reinvention and the way in which it permeates our lives. Sites of observations have been revisited allowing exploration of specific themes. His work has been exhibited at The National Portrait Gallery and The Photographers Gallery, London and Fetart, Paris.
http://www.benelwesphotography.com
For further information about the exhibition and press enquires please contact:
The artists would like to thank Västra Götalandsregionen, Sweden and Gabriel Hörner García, Director, Museo de la Ciudad, Santiago de Querétaro, México for their support with En tránsito.